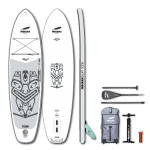 Indiana 10'6 Allround Pack Basic with 3-piece carbon/fibreglass Paddle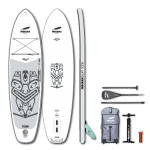 Indiana 10'6 Allround Pack Basic with 3-piece carbon/fibreglass Paddle
€999,00
€999,00
Indiana 10'6 Allround Pack Basic with 3-piece carbon/fibreglass Paddle3-piece 30% Carbon-Fibreglass-Composite Telescope Paddle, composite blade & handle, 89 in2 blade, with Bag, Classic Wheelie Backpack + Paddle Connecting System, HP2 Double Action Pump, 8.5" Hyperflow PA Race Fin, Repair Kit,
Beschreibung
Zusätzliche Informationen
Marke
Beschreibung
Das 10'6 Allround ermöglicht ein ungemein breites Einsatzgebiet. Entweder als Einsteigerbrett, als stabiles und robustes Flussboard oder zum SUP-Surfen. Dieses Board macht alles mit.
Supercool! Split Fin Box, 8.5 Hyperflow Polyamid Fin, Fibreglass Foot Bases, ¼ Inch Camera Connector, Abrisskante und Shoulder Strap
Incl. 3-piece Carbon/Fibreglass Paddle, Wheelie Bag + Paddle-Connecting-System, HP 2 Double Action Pump, Repair Kit
Die Classic Boards im zeitlosen Yacht-Design sind mit unter 10 kg Gewicht sehr leicht. Dank des gewobenen Pre-Laminated Double Layers, des leichtesten und teuersten Dropstitch-Materials auf dem Markt, sind die Boards auch extrem steif und robust. Der Speed Tail lässt das Wasser besser abfliessen und macht die Boards noch schneller. Dank dem abnehmbaren Shoulder Strap sind diese auch einfach und bequem zu transportieren.
Range of Use:
Allround ●●●●●
Yoga/Fitness ●●●OO
Tour ●●OOO
Race OOOOO
Wildwater ●●●OO
Surf ●●OOO
Paddler Level:
Beginner ●●●●●
Advanced ●●●●●
Professional ●●●●●
Konstruktionsart: Woven Pre-Laminated Double Layer
Deckpad: Crocodile Skin
Größe: 10'6" x 32" / 320 cm x 81,3 cm
Empfohlenes Fahrergewicht: 50-90 Kg
Volumen: 243 L
Gewicht: 10,5 Kg
Herstellergarantie: 2 +1 Year
Zusätzliche Informationen
| | |
| --- | --- |
| Farbe | white/black/grey |
| Größe SUP | 10'6 |
| Einsatzbereich | Allround |
| Marke | INDIANA |
| Jahr | 2021 |